About UF
For over 150 years, the University of Florida has grown and solidified its reputation as a leading public research university with a focus on excellence in research, teaching, and technology. The University of Florida's dedication to academic achievement and ongoing leadership is demonstrated by the University's numerous awards and its place as the official, preeminent institution of higher learning in the state.
Some of our notable accolades include:
U.S. News & World Report Top Public Universities: No. 9
U.S. News & World Report National Universities: No. 42
Forbes Best Value Colleges: No. 4
Kiplinger's Best Values in Public Colleges: No. 2
Fiske Guide to Colleges, Best Buys Among Publics: No. 7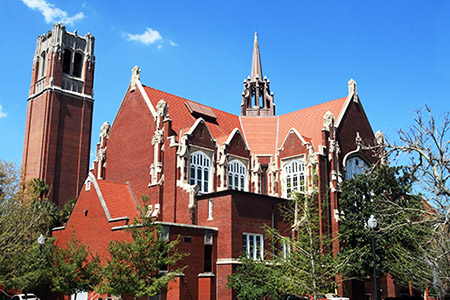 As a student at UF, you'll become part of the Gator Nation – one of the most active and responsive alumni networks in the country. The Gator Nation represents a loyal, committed and supportive network of over 415,000 alumni in every state in the nation and more than 150 countries around the world.
The University of Florida is accredited by the Southern Association of Colleges and Schools Commission on Colleges (SACSCOC).
---
About the School of Music
Serving more than 135 graduate and 200 undergraduate students, the School of Music offers bachelor's, master's and Ph.D. programs in music education, music, liberal arts music study, performance, composition, conducting (choral or instrumental), ethnomusicology, music theory and literature.
The School of Music is accredited by the National Association of Schools of Music (NASM). In addition, the music education program is accredited by the National Council for Accreditation of Teacher Education (NCATE).
---
Request Information
To learn more about the University of Florida's online Master of Music in Music Education and download a free brochure, fill out the fields below. You can also call (866) 794-8806 to speak to an Enrollment Advisor.
*
Indicates Required. Your Privacy is Protected.
The University of Florida respects your right to privacy. By submitting this form, you consent to receive emails and calls from a representative of the University of Florida, which may include the use of automated technology. Consent is needed to contact you, but is not a requirement to register or enroll.
» Are you enrolling from outside the U.S.? Click Here.