About the Program
At the UF School of Music, we believe that music is a fundamental aspect of being human that can enrich lives through creative, performance, and listening experiences. Our goal is to help creative, innovative educators develop their knowledge and skill, allowing them to pass on their passion to the next generation, inspire their students, and encourage life-long musicianship.
The online master's in music education program was designed to fulfill this mission. The curriculum includes courses that can help you engage your students in ways that will fill their lives with music. While the primary focus of the program is on K-12 education, the skills examined throughout the program can be applied to a wide variety of educational settings, including private adult lessons, community choral groups, and more. Each course uses real-world scenarios and the latest research to both explain and demonstrate new teaching methods. This can help you develop a comprehensive base of insight into what you can do to enrich your lesson plans and support your students as they explore the exciting world of music.
Over the course of the program, you will:
Discover innovative perspectives on important topics in contemporary music education, including using technology for creating, performing, and responding to music
Study music from cultures throughout the world
Learn approaches to authentic assessment of student learning
Gain a greater understanding of how musical creativity develops
Integrate instructional design principles to build innovative, engaging lessons
Connect and collaborate with a diverse group of talented peers in the music education field through our online learning platform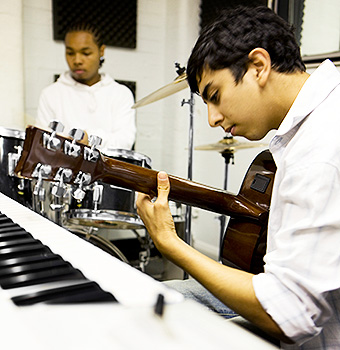 Since the curriculum is taught in a flexible, 100% online format, you can continue to work while you study. Every new method and teaching skill introduced through the program can be practiced immediately, ensuring that you graduate completely prepared to expand into new career paths and better connect to your students.
To learn more about the program, click the links below:
» Curriculum
» Faculty
» Admissions
» Tuition & Financial Aid
» FAQ
---
Request Information
To learn more about the University of Florida's online Master of Music in Music Education and download a free brochure, fill out the fields below. You can also call 866-794-8806 to speak to an Enrollment Advisor.
*
Indicates Required. Your Privacy is Protected.
» Are you enrolling from outside the U.S.? Click Here.